Srđan Perišić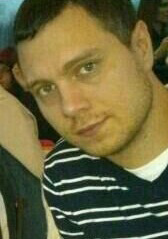 Kratka biografija
            Dr Srdjan Perišić je rođen 1984. godine, u Beogradu. Diplomirao 2011. godine na Tehnološko-metalurškom fakultetu, smer: Inženjerstvo materijala. Doktorske studije 2011-2019. godine na istom fakultetu, odsek: Inženjerstvo materijala. Naziv odbranjene doktorske disertacije: "Sinteza i karakterizacija hibridnih polimernih kompozita na bazi drveta". U Inovacionom centru Tehnološko-metalurškog fakulteta zaposlen je od decembra 2011. godine.
Oblasti interesovanja
Kompozitni materijali, hibridni kompoziti, drvo-polimer kompoziti zasnovani na reciklazi.
Composite materials,hybrid composites, wood–polymer composites based on recycled materilas.
Reference
Aleksić, M. Lalić, S. Perišić, A. Мalešević, Effect of various enamel etching on shear bond strength in orthodontics, HealthMED Journal, 7(10) (2013) 2782–2787.
Fidanovski Bojana Z., Popovic Ivanka G., Radojevic Vesna J., Radisavijevic Igor Z., Perisic Srdjan D., Spasojevic Pavle M., Composite materials from fully bio-based thermosetting resins and recycled waste poly(ethylene terephthalate), Composites Part B-Engineering, 153 (2018) 117–123.
Srdjan Dragan Perisic, I. Radovic, M. Petrovic, A. Marinkovic, D. Stojanovic, P. Uskokovic, V. Radojevic, Processing of hybrid wood plastic composite reinforced with short PET fibers, Taylor&Francis online, 33 (2018) 1–8.
Radisavljevic Andjela, Stojanovic Dusica, Perisic Srdjan, Djokic Veljko, Radojevic Vesna, Rajilic-Stojanovic Mirjana, Uskokovic Petar, Cefazolin-loaded polycaprolactone fibers produced via different electrospinning methods: characterization, drug release and antibacterial effect, European Journal of Pharmaceutical Sciences, 124 (2018) 26–36.
Srđan Perišić, Marija M. Vuksanović, Miloš Petrović, Anđela Radisavljević, Aleksandar Grujić, Radmila M. Jančić-Heinemann, Vesna Radojević, Impact of alumina particles on the morphology and mechanics of hybrid wood plastic composite materials, Science of Sintering, 51 (2019) 115–124.