Bojan Gligorijević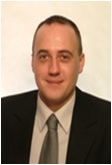 +38163 494 699
Soba Aneks/59
Kratka biografija
Srednju elektrotehničku školu "Nikola Tesla" završio je u Beogradu 1998. godine. Diplomirao je na Katedri za Metalurško Inženjerstvo Tehnološko-Metalurškog Fakulteta Univerziteta u Beogradu 2007. godine na temi "Ispitivanje difuzije kiseonika primenom razmene izotopa 18O2/16O2 na oksidovanoj amorfnoj kovalentnoj Si-C-N keramici", a na istoj katedri je 2008. godine upisao doktorske studije. 2009. godine završava specijalizaciju u oblasti zavarivanja i srodnih postupaka prema kriterijumima Međunarodnog Instituta za Zavarivanje (IIW) i dobija zvanje "međunarodni inženjer zavarivanja" (International Welding Engineer – IWE).
2005/06 je boravio na Institutu za Metalurgiju Tehnološkog Univerziteta Clausthal u Nemačkoj gde je učestvovao u radu na međunarnodnom projektu "Oxidation of Amorphous Si-C-N ceramics", u okviru koga se bavio ispitivanjem mehanizama difuzije kiseonika u termalno nadgrađenim prevlakama silike odakle kasnije formira temu diplomskog rada.
2008.-2013. sa saradnicima Instituta Goša je učestvovao u realizaciji i izradi elaborata za najmanje sedam projekata sa industrijom, a od 2009. godine učestvuje na nacionalnim istraživačkim projektima osnovnih i primenjenih istraživanja u zvanju istraživač-saradnik. 2011.-2014. godine je angažovan na projektima TR 34022 (Dijamantske prevlake proizvedene iz ugljovodonika metodom ravnog plamena) i TR 34028 (Istraživanje i optimizacija tehnoloških i funkcionalnih performansi ventilacionog mlina u Termoelektrani "Kostolac B"), koje finansira Ministarstvo prosvete, nauke i tehnološkog razvoja Republike Srbije. Od 2007. publikovao je preko 10 stručnih i naučnih radova u međunarodnim i domaćim časopisima i zbornicima konferencija i učesnik je isto toliko domaćih i međunarodnih konferencija.
Od 2013. godine je član Programskog Komiteta međunarodne konferencije "Welding and Related Technologies", koju organizuje E.O. Paton Electric Welding Institute Ukrajinske akademija nauka.
2013/2014. godine osvaja grant NTU-SPMS-CBC – (Nanyang Technological University – School for Physical and Mathematical Sciences – Division of Chemistry and Biological Chemistry) u Singapuru za realizaciju projekta "Dissolution/Precipitation Behavior Hydroxyapatite Coatings Obtained by High Power Laminar Plasma Jet in Modified Kokubo Solutions", u grupi Prof. Dr. Vidovića (Vidović's Group).
Oblasti interesovanja
Serbian:
• Metalurgija, zavarivanje, tehnologije nanošenja prevlaka • Metalni i keramički materijali; spoj metal/metal i keramika/metal • Materijali za primenu u visokotemperaturnim uslovima sredine i visokotemperaturni procesi • Biomaterijali i interakcija biomaterijala i simuliranih telesnih tečnosti • Oksidacija/korozija, habanje, lom
English:
• Metallurgy, welding, coating deposition technologies • Metallic and ceramic materials, metal/metal and ceramic/metal joints • High temperature materials and high temperature processes • Biomaterials and interaction between biomaterials and simulated body fluids • Oxidation/corrosion, wear, fracture
Reference
Aleksandar Vencl, Bojan Gligorijević, Boris Katavić, Bogdan Nedić, Dragan Džunić, "Abrasive Wear Resistance of the Iron- and WC-based Hardfaced Coatings Evaluated with Scratch Test Method", Tribology in Industry, Vol. 35, No. 2 (2013) 123-127; ISSN: 0354-8996 (pr. ver.); 2217-7965 (el. ver.); http://www.tribology.fink.rs/journals/2013/2013-2/4.pdf (TR 34028).
KUTIN Marina, PROKOLAB Milan, RISTIC Marko, ALIL Ana, GLIGORIJEVIC Bojan, "Determination and analysis of the dynamic loaded screws by structural analysis, fractography and numerical simulation" Advanced Materials Research Vol. 814 (2013) pp 87-98 (2013) Trans Tech Publications, Switzerland, doi: 10.4028/www.scientific.net/AMR.814.87 (TR 34028 i TR 34022).
 B.R. Gligorijević, A. Vencl, B.T. Katavić, "Characterization and Comparison of the Carbides Morphologies in the Near-Surface Region of the Single- and Double-Layer Iron-Based Hardfaced Coatings, Transactions on Mechanics, Vol. 57 (71), Special Issue S1, EDITURA POLITEHNICA, 2012, 15-20, ISSN 1224-6077.
 B. Katavić, B. Gligorijević, Z. Odanović, Mile B. Djurdjević, "Properties of Heat Treated Centrifugally Cast High Strength Tubes", Metalurgija-MJoM Vol 17 (4) 2011 p. 221-230.
 B. Gligorijević, H. Schmidt, N. Radović, M. Davidović, M. Kutin, and A. Janićijević "Short-Circuit Oxygen Diffusion in Thermally Grown Silica Layer", International Journal of Modern Physics B, Volume: 24, Issues: 6-7 (2010) pp. 682-694.
Bore V. Jegdić, Ana B. Alil, Zlatan R. Milutinović, Zoran D. Odanović, Bojan R. Gligorijević, Boris T. Katavić, "Application of Electrochemical Methods for the Investigation of Intergranular Corrosion of Welded Joint of Austenitic Stainless Steel 19Cr-9Ni", Hem.Ind. 65 (2) 179-186 (2011), DOI: 10.2298/HEMIND101122005J
 B. Gligorijević, Z. Milutinović, D. Jovanović, M. Prokolab, M. Prvulović, B. Katavić, M. Kutin, "Macro- and micro-structure properties of steel welded joints produced by TIG and laser/arc hybrid welding process", Proceedings of the 4th International Conference – Innovative Technologies for Joining Advanced Materials, 10.06.-11.06.2010., ISIM Timisoara, Romania, SUDURA Publishing House, 201-206, ISSN 1844-4938.
B. Gligorijević, B. Jegdić, M. Prvulović, M. Prokolab, B. Katavić, D. Jovanović, "Low Temperature Corrosion in Water Boiler System", TERMOTEHNIKA, 2009, 35, 3-4, 251–261.
B. Gligorijević, H. Schmidt, "18O-16O Isotope Exchange Experiments on Polymer-Derived Si-C-N Ceramics", Proc. 10th Int. ECerS Conference in Berlin, Germany, edited by J. G. Heinrich, C. Aneziris, (Göller, Baden-Baden, 2007), 186-190, ISBN 3-87264-022-4.