Ana Janković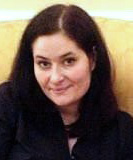 Kratka biografija
        Dr. Ana Janković diplomirala je 2000. na Tehnološko-metalurškom fakultetu Univerziteta u Beogradu i stekla zvanje diplomirani inženjer tehnologije. Po diplomiranju, bila je zaposlena na Tehnološko-metalurškom fakultetu kao asistent-pripravnik na Katedri za Opštu i neorgansku hemiju. Doktorirala je na Department of Chemistry, Wayne State University, Detroit, Michigan, USA.
Doktorsku disertaciju pod nazivom "Isothermal Titration Calorimetry Studies of Protein-mediated Interactions and Preliminary Structural Studies of Tandem PDZ1-2 Domain of PSD-95 Protein" odbranila je decembra 2009 godine. Tokom studija radila je kao Graduate Research Assistant od novembra 2001. godine do novembra 2007. godine, a kao Graduate Teaching Assistant od septembra 2001. godine do maja 2005. godine, na Department of Chemistry, Wayne State University, Detroit, MI. U periodu od februara 2008. do juna 2009. radila je kao Research Assistant na Department of Biochemistry and Molecular Biology, School of Medicine, Wayne State University, Detroit, MI.
U toku studija dva puta je nagrađivana Wayne State University Excellence in Teaching Award, 2004. i 2005. god. Od januara 2012., dr. Ana Janković je zaposlena u NFMC FTM UB. Tokom 2012. bila je gostujući naučnik u NILPRP-The Laser-Surface-Plasma Interactions Laboratory na National Institute for Laser, Plasma, and Radiation Physics u Bukureštu, Rumunija u sklopu FP7-REGPOT 2009 Nanotech projekta. Ostala je u NFMC do finalizacije FP7 Nanotech FTM projekta. Angažovana je na projektu III 45019 interdiciplinarnih integrativnih istraživanja Ministarstva za prosvetu, nauku i tehnološki razvoj.
Oblasti interesovanja
Biomaterijali, nanotechnologija, kompozitne prevlake.
Biomaterials, nanotechnology, composite coatings.