Radosav Cerović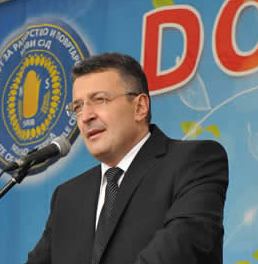 Kratka biografija
        Radosav Cerović je rodjen 1959. godine u Pristini. Prirodno-matematicki fakultet (studijska grupa Biologija) je zavrsio 1982. godine u Beogradu. Magistarski rad "Mikrosporogeneza i plodnost visnje sumadinke i cacanskog rubina (Prunus cerasus L.)" odbranio je 1990. godine na Poljoprivrednom fakultetu u Beogadu na Grupi za genetiku i oplemenjivanje vocaka i vinove loze. Na Bioloskom fakultetu u Beogradu doktorirao je 1994. godine. Autor je ili koautor veceg broja radova objavljenih u vodecim stranim i domacim naucnim casopisima.
Reference
1. Djordjevic Milena, Cerovic Radosav, Radicevic Sanja M., Glisic Ivana S., Milosevic Nebojsa, Maric Sladjana A., Lukic Milan M., Abnormalities in the ovule development of the European plum cultivar 'Pozna Plava' in the days following anthesis, Scientia Horticulturae, 252 (2019) 222-228.
2. Radicevic Sanja M., Cerovic Radosav, Djordjevic Milena, Ovule senescence and unusual pollen tube growth in the ovary of sweet cherry as affected by pistilar genotype and temperature, Spanish journal of Agricultural Research, 16 (2018).
3. Fotiric-Aksic Milica M., Cerovic Radosav, Rakonjac Vera S., Bakic Ivana V., Colic Slavica D., Meland Mekjell, Vitality and in Vitro Pollen Germination of Different 'Oblacinska' Sour Cherry Clones, Genetika-Belgrade, 49(3) (2017) 791-800.
4. Vujovic Tatjana I., Ruzic Djurdjina, Cerovic Radosav, Leposavic Aleksandar P., Karaklajic-Stajic Zaklina, Mitrovic Olga V., Zurawicz Edward, An assessment of the genetic integrity of micropropagated raspberry and blackberry plants, Scientia Horticulturae, 225 (2017) 454-461.