Ana Alil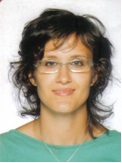 Kratka biografija
            Ana Alil rođena je 30.4.1985. u Beogradu. Diplomirala je na Tehnološko-metalurškom fakultetu u Beogradu 2010. godine na katedri Metalurško inženjerstvo sa prosečnom ocenom 9,55 odbranivši diplomski rad na temu "Uticaj veštačkog starenja na ojačavanje Al-Mg-Cu legura". Dobitnik je diplome "Panta S. Tutundžić", nagrade Srpskog hemijskog društva za ukupan uspeh postignut tokom osnovnih studija i stipendije Zadužbine Studenica Kongresa Srpskog Ujedinjenja 2010/2011.
            Završila je specijalizaciju za međunarodne inženjere zavarivanja (IWE), prema kriterijumima Međunarodnog Instituta za Zavarivanje (IIW) 2013 godine. U toku 2015. godine završila je obuku za rad na elektromehaničkoj kidalici Shimadzu, 2016. godine sertifikuje se za nivo 2 metoda ispitivanja bez razaranja i to za ultrazvučno ispitivanje i ispitivanje vrtložnim strujama, dok 2017. godine sertifikuje se za za nivo 2 metoda ispitivanja bez razaranja i to vizuelno ispitivanje, ispitivanje tečnim penetrantima i ispitivanje magnetskim česticama.
            Doktorsku disertaciju pod nazivom "Struktura i svojstva višeslojnih Al-Mg traka dobijenih hladnim valјanjem" na TMF u Beogradu odbranila je 2018. god. i stekla naučni stepen, doktor tehničkih nauka iz oblasti metalurško inženjerstvo. Trenutno je angažovana na projektima: TR 34018 (Design of processing and welding of the high strength Al-Mg alloys for road and railway transportation applications) Ministarstva za nauku i tehnološki razvoj Republike Srbije, na međunarodnom projektu EUREKA E!9992 pod akronimom EcoExtrusions i na inovacionom MINI GRANT projektu New Forged-Quality Al/Cu Bimetallic Electrical Connectors.
Oblasti interesovanja
mikrostruktura, osobine, destruktivna i nedestruktivna ispitivanja, zavarivanje i sposobnost oblikovanja čelika i Al-legura.
microstructure, properties, destructive and non-destructive testing, welding and formability of steel and Al alloys.
Reference
Ana Alil, Miljana Popović, Tamara Radetić, Milorad Zrilić, Endre Romhanji, Influence of annealing temperature on the baking response and corrosion properties of an Al-4.6 wt% Mg alloy with 0.54 wt% Cu, Journal of Alloys and Compounds, 625 (2015), 76-
Ana Alil, Miljana Popović, Jelena Bajat, Endre Romhanji, Mechanical and corrosion properties of AA5083 alloy sheets produced by accumulative roll bonding (ARB) and conventional cold rolling (CR), Materials and Corrosion, 2017 https://doi.org/10.1002/maco.201709915
Bore Jegdić, Ana B. Alil, Zlatan R. Milutinović, Zoran D. Odanović, Bojan R. Gligorijević, Boris T. Katavić, Application of Electrochemical Methods for the Investigation of Intergranular Corrosion of Welded Joint of Austenitic Stainless Steel19Cr-9Ni, Hemijska Indstrija, 65 (2) (2011) 179-186.
Bore Jegdić, Biljana M. Bobić, Miloš K. Pavlović, Ana B. Alil, Slaviša S. Putić, Stress corrosion cracking resistance of aluminium alloy 7000 series after two-step aging, Chemical Industry and Chemical Engineering Quarterly (CI&CEQ), 21, No. 2 (2015), 261-268.