Marija Perišić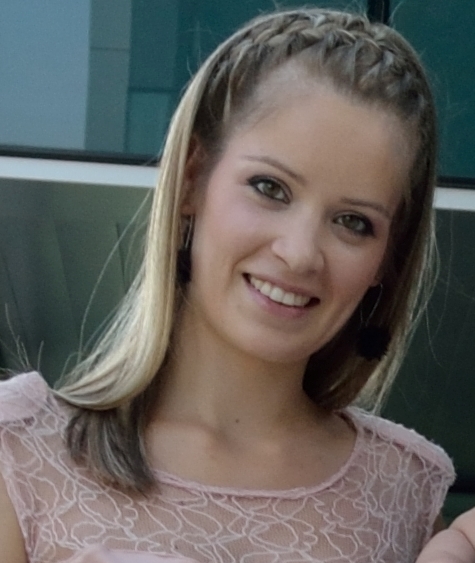 +381 11 3303 703
Soba 509
Krata biografija
Marija (Vojisavljević) Perišić
rođena je 05. januara 1984. godine, u Beogradu.  Diplomirala je 2010. godine na Tehnološko-metalurškom fakultetu, smer: Farmaceutsko inženjerstvo. Doktorske studije upisala je 2011. godine na istom fakultetu, odsek: Hemijsko inženjerstvo. Iste godine angažovana na projektu "Sinteza i karakterizacija novih funkcionalnih polimera i polimernih nanokompozita" (OI 172062) Ministarstva prosvete i nauke. U Inovacionom centru Tehnološko-metalurškog fakulteta zaposlena je od oktobra 2011. godine.
Oblasti interesovanja Sinteza i karakterizacija  polimernih sistema koji se primenjuju u biomedicini- bioaktivni polimerni materijali i "inteligentni" polimerni sistemi- hidrogelovi. Razvoj novih sintetičkih materijala inspirisanih prirodnim materijalima. Sistemi za kontrolisano otpustanje lekova na bazi hidrogelova. Synthesis and characterization of polymeric biomaterials for biomedical applications, such as bioactive polymeric materials and "intelligent"polymeric systems- hydrogels. Development of novel synthetic materials inspired by natural materials. Controlled drug delivery systems based on hydrogels.
Reference
Dobić S.N., Jovašević J.S., M.D. Vojisavljević, S.L. Tomić: Hemocompatibility and swelling studies of poly(2-hydroxyethyl methacrylate-co-itaconic acid-co-poly(ethylene glycol) dimethacrylate) hydrogels, - Hemijska industrija 65, Vol 6, 2011, pp. 675-685. ISSN: 0367598X
Jovašević J.S., Vojisavljević M.D., Krezović B.D., Filipović J.M., Suljovrujić E.H., Tomić S.Lj.: Swelling and biocompatibility behavior of P(HEA/IA/PEGDMA) hydrogels, Tenth young researchers' conference materials science and engineering, Programme and book of abstracts XI/1, Belgrade, Serbia 2011, p. 44. ISBN 978-86-80321-27-1
Tomić S.Lj., Jovašević J.S., Vojisavljević M.D., Filipović J.M.: Controllable Properties and Microstructure of Hydrogels Based on Poly(ethyleneglycol) Dimethacrylates, 5th International Conference on Polymer Behavior, Multiphysics Approaches for the Behavior of  Polymer and Polymer-Based Nanomaterials, Program Book, Aveiro, Portugal 2012, A036, p. 8.
Jovašević J.S., Vojisavljević M.D., Dimitrijević S.I., Perić-Grujić A.A., Filipović J.M., Tomić S.Lj.: Itaconic Acid Based Nanohybrid Hydrogels. Swelling, Controlled Release of Copper Ion and Antimicrobial Activity Studies, First International conference on processing, characterisation and application of nanostructured materials and nanotechnology, Nanobelgrade, Book of abstracts, Belgrade 2012, p. 35. ISBN 978-86-7401-285-7.
Babić M.M., Jovašević J.S., Antić K.M., Krezović B.D., Perišić M.D., Filipović J.M., Tomić S.Lj., Influence of amniotic fluid on swelling and controlled drug release of hydrogels based on 2-hydroxyethyl acrylate and itaconic acid, 3rd Conference Innovation in Drug Delivery, Programme and Abstracts, Pisa, Italy 2013, p 113.