Anđelika Bjelajac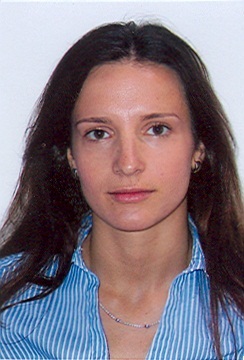 Kratka biografija
Anđelika Bjelajac
je rođena 21.6.1986. u Kosovskoj Mitrovici. Završila osnovnu i srednju školu u Beogradu kao nosilac Vukove diplome. 2001. godine dobila počasnu titulu od Grada ''Beogradski anđeo''. Na Tehnološko-metalurškom fakultetu u Beogradu diplomirala je 2009. godina na Inženjerstvu materijala sa ocenom 9.43. Master studije je završila u Grenoblu, u Francuskoj, 2010. godine u okviru internacionalnog master programa FAME (Functional Advanced Materials and Engineering). Doktorske studije je upisala 2010. godine na Tehnološko-metalurškom fakultetu u Beogradu na Inženjerstvu materijala. Od 2011. radi u Inovacionom centru TMF-a. Učestvovala je u realizaciji međunarodnog projekta FP7-REGPOT-2009-1 NANOTECH FTM, br: 245916, boraveći u više navrata na Nacionalnom institutu za lasere, plazmu i radijacionu fiziku u Bukureštu (NILPRP), kao i na Institutu za fiziku i hemiju materijala u Strazburu (IPCMS) i Inženjerskom fakultetu u Terniju, Univerziteta u Peruđi (UNIPG). Obučena je za rad na FESEM, FETEM, PLD, RF spatering sistemu, XRD, DTA, DRS, DSC, HTCVD,  EDS, EELS i mnogim drugim tehnikama za procesiranje i karakterizaciju materijala. U svom radu koristi i ImageJ, Voxx i Matlab. Član je Mense Srbije i Mreže tehnoloških brokera Srbije. Tečno govori engleski i francuski, služi se španskim jezikom.
Oblasti interesovanja Razvoj tehnologija dobijanja nanostrukturnih materijala za primenu u fotonaponskim sistemima; nove metode sinteza, karakterizacija i primena čistih i dopiranih poluprovodničkih materijala, kao i biomaterijala; fotokataliza i inženjerstvo zaštite životne sredine.
Reference
Andjelika Bjelajac, Dragoljub Gajić, Dimitrije Stevanović, Ivan Brkić, Martin McGurk, "Serbian National Technology Brokers Network: Structure, Opportunities and Challenges", International Conference on Technology Transfer, Nis, June 20-21, 2013.
Sanja Krstic Musovic, Branka Kaludjerovic, Vladimir Dodevski, Radoslav Aleksic, Andjelika Bjelajac, "Structural properties of hydrochar obtained by hydrothermal treatment of fructose", 2nd International Conference of the Serbain Ceramic Society, Belgrade, June 5-7 2013.
Marjanovic Vesna, Lazarevic Slavica, Jankovic-Castvan Ivona, Jokic Bojan, Bjelajac Andjelika, Janackovic Djordje, Petrovic Rada, "Functionalization of thermo-acid activated sepiolite by amine-silane and mercapto-silane for chromium(VI) adsorption from aqueous solutions", Hemijska industrija (2012) DOI:10.2298/HEMIND121026117M (ISSN 0367-598X, IF 2011: 0,205).
A. Bjelajac, V. Djokic, R. Petrovic, G. Socol, I. Mihailescu, O. Ersen, Ileana Florea, Dj. Janackovic, "Characterization of pulse laser deposited CdS on TiO2 nanotubes arrays" at Eleventh Young Researchers' Conference Materials Science and Engineering, Belgrade, December 3-5, 2012.
S. V. Zdrale, S. R. Grujic, M. B. Tosic, V. D. Zivanovic, A. Z. Bjelajac, S. D. Matijasevic, J. D. Nikolic, "Crystallization and sintering phenomena of glasses in the system La2O3-SrO-B2O3" at 11th International Conference on Fundamental and Applied Aspects of Physical Chemistry (Physical Chemistry 2012), Belgrade, September 24-28, 2012.
Sonja V. Zdrale, Snezana R. Grujic, Mihajlo B. Tosic, Vladimir D. Zivanovic, Andjelika Z. Bjelajac, Srdjan D. Matijasevic, Jelena D. Nikolic, Snezana N. Zildzovic, "Sintering of glasses in the ternary system La2O3-SrO-B2O3 studied by hot-stage microscopy", 50th Meeting of the Serbian Chemical Society, Belgrade, June 14-15, 2012.