Ana Alil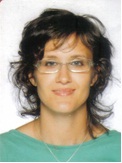 Krata biografija
Ana Alil rođena je 30.4.1985. u Beogradu. Diplomirala je na Tehnološko-metalurškom fakultetu u Beogradu 2010. godine na katedri Metalurško inženjerstvo sa prosečnom ocenom 9,55 odbranivši diplomski rad na temu "Uticaj veštačkog starenja na ojačavanje Al-Mg-Cu legura". Upisala doktorske studije na Tehnološko-metalurškom fakultetu  Univerziteta u Beogradu 2010. godine na Katedri za metalurško inženjerstvo. Završila je specijalizaciju za međunarodne inženjere zavarivanja (
IWE
), prema kriterijumima Međunarodnog Instituta za Zavarivanje (IIW) 2013 godine. Dobitnik je diplome "Panta S. Tutundžić", nagrade Srpskog hemijskog društva za ukupan uspeh postignut tokom osnovnih studija i stipendije Zadužbine Studenica Kongresa Srpskog Ujedinjenja 2010/2011. Trenutno je angažovana na projektima  kao istraživač saradnik TR 34018 (Design of processing and welding of the high strength Al-Mg alloys for road and railway transportation applications 2011 – 2014) i TR 34022 (CVD Diamond films from hydrocarbons in the flat flame method 2011-2014) Ministarstva za nauku i tehnološki razvoj Republike Srbije.
Oblasti interesovanja Mikrostruktura, osobine, deformaciono ponašanje, zavarivanje i sposobnost oblikovanja čelika i Al-legura.
Reference
Ana Alil, Miljana Popović, Tamara Radetić, Endre Romhanji, Bore Jegdić, Age hardening potential of an Al-4.6 wt.% Mg alloy with Cu addition, IX Konferencija Mladih istraživača, 20.-22.12.2010., SANU Beograd
Jegdić, B., Alil, A., Milutinović, Z., Odanović, Z., Gligorijević, B.,Katavić, B., Primena elektrohemijskih metoda za ispitivanje interkristalne korozije zavarenog spoja austenitnog nerđajućeg čelika 19Cr-9Ni., Hemijska industrija, 65 (2011) 179-186.
Bojana Radojković, Miroljub Vilotijević, Marija Krmar, Bojan Gligorijević, Ana Alil, Deposition of the DLC structures in the low-pressure oxy-acetylene flat flame, XI Konferencija Mladih istraživača, 3.-5.12.2012., SANU Beograd.
Bore Jegdic, Suzana Polić-Radovanović, Slavica Ristić, Ana Alil, Corrosion of Archaeological Artefact made of Forged Iron, Mettalurgical & Materials Engineering, Vol 18 (3) 2012, p. 233-240.
Ana Alil, Bore jegdić, Biljana Bobić, Miroslav Radosavljević, Boris Katavić, Stress Corrosion Cracking of an Al-Zn-Mg-Cu Alloy after different Precipitation Hardening Treatments, 5th INTERNATIONAL SCIENTIFIC CONFERENCE ON DEFENSIVE TECHNOLOGIES OTEH, 18-19 september 2012., Belgrade, Serbia.
A. Alil, B. Katavić, M. Ristić, D. Jovanović, M. Prokolab, S.Budimir, M.Kočić, Structural and mechanical properties of different hard welded coatings for impact plate for ventilation mill, Welding and Material Testing, 3 (2011) 7-11.
B. Katavić, B. Gligorijević, A.Alil, Z. Odanovic, The effects of aging on the precipitation of the W-rich phase in the matrix of the 92.5W-5Ni-2,5Fe powder metallurgy heavy alloys, 1st Metallurgical and Materials Engineering Congress of South-East Europe, 23-25 May 25 2013, Belgrade.
Ana Alil, Milan Prokolab, Mirjana Prvulovic, Zlatan Milutinovic, Sanacija čelične konstrukcije rešetkastog nosača autodizalice Pinguely TL969, Zavarivanje i zavarene konstrukcije, 2 (2012) 89-93.
Bore V. Jegdic, Stevan I. Ostojić, Biljana M. Bobić, Ana B. Alil, Intergranular Corrosion of welded joints. Forming conditions and Procedures for Prevention, Integritet i vek konstrukcija, Vol.  13, br. 2 (2013) pp. 93-97.